Hello friends and happy Friday! I was talking to my friend Agata this morning because she's looking for a marble surface in her home and she loves my coffee table. And of course she asked me where I got it and I happily told her MYCS, a company in Germany that I just love and would shop from again and again. MYCS worked with me in 2018 on a little collaboration in which I received a lovely closet for my hallway to store jackets and things and my favorite piece of all – my white Carrara marble sofa table in my living room, shown below. Have you seen it!?! It's one of my favorite pieces in my home at the moment.
I really love this sofa table, it's beautiful and big, I can even shoot on it when my clients ask for something to be shown on a marble background so it doubles for work and for play. It's also very sturdy and looks so pretty when I'm entertaining, especially if I lay out all of my pretty things on it – candles, string of lights, nuts, fruit, cheese, prosecco, stemware… THE perfect table for an girls party that okay, you always want to Instagram because everything looks so damn pretty when combined with white marble! Yes?!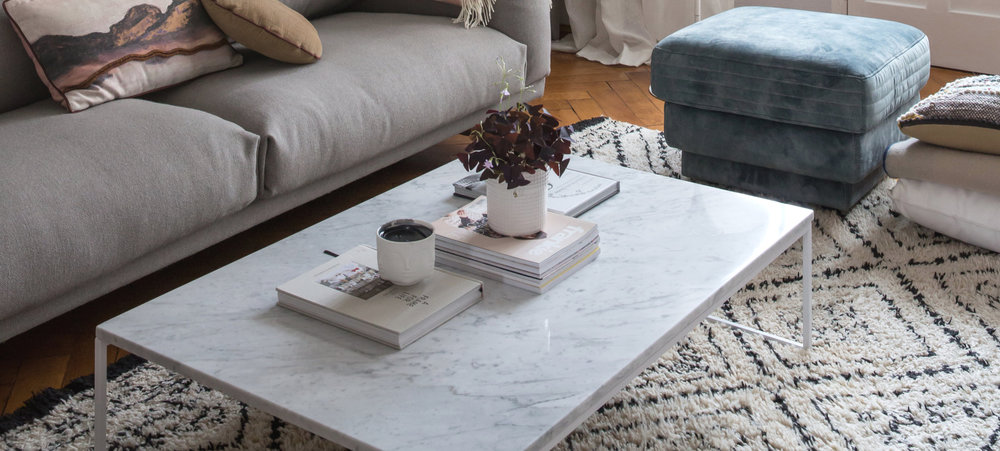 AND good news for YOU. At the moment, this table "Beistelltisch" is 30% off and you can get it in many different variations, including brown and black marble, glass, wood, or 18 different solid colors and the base can also be changed to suit your wishes. I honestly want to buy extra tops in different colors so I can use it more for flat lays and shoots because the dimensions of this table are just perfect for photography and I take a lot of photos over the past two years than ever before.
As for the company itself, MYCS is just great – friendly, fast, their setup and delivery service is 100% professional and great, and I really like their price point and also how you can customize many of their products to suit your design and lifestyle. It's affordable, functional, beautiful design for all budgets, but definitely NOT IKEA, it's extremely well made so it's perfect for when you are ready to graduate from IKEA systems and furniture and purchase lasting pieces that you'll keep a lot longer. For instance, my IKEA closet is falling apart so I won't replace it with an IKEA closet… When I am ready, I'll replace it with a system like those that MYCS carries.
This is my exact closet from MYCS below (photo/room not mine):
I am so happy with my MYCS experience from start to finish and highly recommend this company to shop from for your home, it has my official Holly stamp of approval. 🙂 ha ha. They also have 5 showrooms in Germany, one in Paris and another in Zurich. You can also shop their online site in the UK – or buy online from other European countries, of course.
In other news… It's boiling hot in Germany right now, it was 104 yesterday, so I'm indoors blogging and working on a photo shoot for issue two of my magazine, out 26 September on news stands all over German speaking Europe and not long after, a digital English version will be available to buy online. It's a lot of work to make magazines, but it's the most exciting project I've ever been on, and I'm loving every minute of it. As I finish up the magazine in boiling weather and no A/C, I am reminded that I must really love my job. 🙂
I'll be back later with a lovely home tour.
Hugs,
Holly
(Images: Holly Becker except of closet.)
---
[SPONSORED by MYCS however ALL opinions and words are my own. I am never paid to "like" something. If I don't like it, I won't write about it and the products get returned. With this collaboration, I was only gifted with product, not compensated to write about it. I love the product and am happy to share this brand with my fans and friends.]